Table of Contents
VA7FI's New Desk
Yesterday, I finally finished installing my new desk and re-organizing the bulk of my station. Here are a few before / after pictures.
Before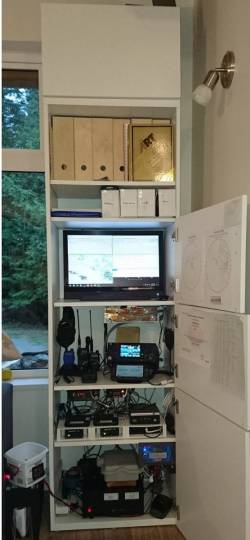 Since we moved to Roberts Creek, my station has been tucked away in a small Ikea shelving unit in the corner of our small livingroom. It was nice because I could close the doors and keep everything hidden away, but it also means that it wasn't very comfortable to operate for extended periods.

After much deliberation, we decided to replace the shelving unit with an adjustable sit / standup desk.
After
Still To Do
Finish the grounding.

Re-run the DC wiring from the crawlspace to behind the station.

Move all the solar panels on top of the container.
blog/2020-09-13/new_desk.txt · Last modified: 2020/09/14 09:05 by va7fi
---